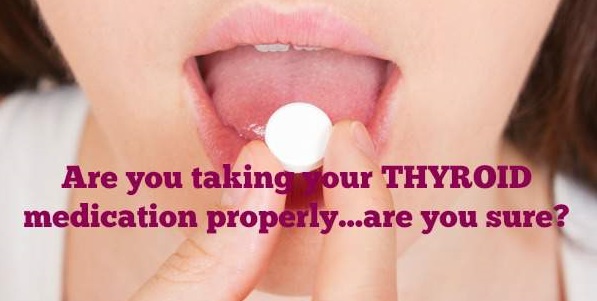 After 3 years of taking thyroid medication for hypothyroidism every day, I found a great new thyroid doctor and for the first time discovered that I was taking my thyroid medication all wrong. I was taking my medication at the very same time as foods, medications, and supplements known to interfere with the absorption of thyroid medication. Yet my previous thyroid doctor and pharmacists never thought to tell me such important information.
I no longer take a T4-only levothyroxine medication like Synthroid, which is a popular prescription for hypothyroidism in mainstream medicine. I felt awful on T4 only. Some do great on these medications but I just didn't. Our bodies are all different. I now take natural desiccated thyroid which contains both T4 and T3 thyroid hormones. My doctor has me divide my dose to twice a day to spread the affect of T3 in NDT to keep up my energy throughout the day. I take half of my dosage first thing in the morning when I wake up and the other half in the afternoon several hours apart from the food, supplements, and medications mentioned below in this article. First speak to your doctor before changing how you take your thyroid medication.
Written by Kent Holtorf, M.D.
If you are hypothyroid and taking a prescription thyroid hormone replacement drug, you may not be aware of the many rules that need to be followed when taking your medication. Something you may not know is how your other medications, vitamins, supplement, and even food choices are interfering wither thyroid medication.
If you are taking thyroid medication, hopefully your doctor or pharmacist has already shared with you the most important things to remember:
Sponsored Links

Take on an empty stomach first thing in the morning
Wait one hour before eating breakfast
Take it at the same time each day
Never miss a dose
Don't take your thyroid medication at the same time as your coffee (coffee may lower the absorption of your thyroid medication)(1,2,3)
These are very important medication instructions to follow, however, there is more to the story when taking thyroid medication that you may not be aware of.
Thyroid expert Mary Shomon writes about how some thyroid patients may benefit from taking thyroid medication at night.(4) Speak to your doctor before making changes to how you take your thyroid medication.
Many medications, supplements, and foods are important to avoid or not consume within three to six hours of taking your thyroid medication. These interfere with the the body's ability to absorb and utilize thyroid medication effectively. When an interference of absorption happens, serious things can occur. You may become under-medicated or even over-medicated depending on the substance causing the interference. So, which substances cause an absorption issue?
Antibiotics
If you are taking thyroid medication and you are prescribed an antibiotic, you will want to make sure that you know about how thyroid drugs and antibiotics can interact, affecting the absorption of your thyroid medication.
There are a variety of reasons why you may need to take a larger-than-usual dose of thyroid hormone replacement medication— but one of the most common reasons is that you are taking a prescription or over-the-counter medication that affects absorption of your thyroid medication.
Some medications decrease the absorption of thyroid medication while others increase it.
A study from the journal Thyroid found that the antibiotic ciprofloxacin – known more commonly by brand names Cipro, Proquin, Ciproxin, Ciprobay, Cirpoxine, and Ciflox — significantly decreased the absorption of the thyroid medication.(5) [Keep in mind that some experts feel that the warning about ciprofloxacin applies also to similar quinolone antibiotics such as levofloxacin (Levaquin), lomefloxacin (Maxaquin), monifloxacin (Avelox), norfloxacin (Norox-In), and ofloxacin (Floxin).]
This means that if you are taking thyroid drugs and an antibiotic from the quinolone family, it could interfere with absorption, and cause you to become substantially more hypothyroid.
Interestingly, the antibiotic rifampin (also called rifampicin) — and known by brand names Rifadin, Rifamate and Rifater — significantly increased the absorption of the thyroid medication. This means that if you are taking the antibiotic along with your thyroid hormone replacement medication, it could actually cause you to become overmedicated, or experience hyperthyroid symptoms.
Is there a solution? Some studies have found that the impact may be minimized if the antibiotic and thyroid medications were taken at least six hours apart. But it's not agreed upon across the board by physicians.
Your best bet is to discuss the issue with your practitioner at the time these drugs are prescribed (and before you get the prescription filled). There may be other antibiotics available for your treatment that are less likely to interfere with the effectiveness of your thyroid treatment. To be safe, take antibiotics 6 hours either before or after your thyroid medication.
Note: Remember that if you are prescribed an antibiotic, you should also take measures to help protect your digestive health.
Other Medications
While many of these other medications are needed, there are time guidelines to follow if you are also taking thyroid medication. Speak to your doctor or pharmacist if you are taking:
Sucralfate (Carafate), a medication often prescribed for treatment of peptic ulcer disease or gastroesophageal reflux disease decreases the absorption of thyroid medication and should be taken 8 hours before or after.
Cholestyramine and other cholesterol lowering drugs should be taken 4-6 hours apart from your thyroid medication.
Raloxifene (Evista) for osteoporosis take 12 hours apart.
Antidepressants: Many selective serotonin reuptake inhibitors (SSRI) like Prozac, Zoloft, and Paxil decrease the effectiveness of thyroid medication.
Anti-seizure: Medications such as Tegretol, Dilantin, and Phenobarbital increase the metabolism and may require your physician to increase your thyroid dose.
Insulin or an oral hypoglycemic drug take at least a few hours apart to avoid interaction.
Sevelamer – for kidney disease
Antiepileptic drugs – Rifampin, efavirenz, nevirapine, rifabutin and rifapentine
St. John's wort
Imatinib (Gleevec) – cancer drug
Sertraline (Zoloft)
Talk to your doctor or pharmacist about all drugs and supplements that you are taking alongside your thyroid hormone replacement medication, to make sure that your timing minimizes any interference or absorption problems.
Supplements
Interestingly, taking iron or calcium supplements, while helpful to your condition, can also affect the way your body absorbs your medication. This includes multivitamins and prenatal vitamins that include iron. Even reaching for an over the counter antacid like Tums or Rolaids (antacids that include calcium carbonate and/or aluminum hydroxide can significantly reduce thyroid medication absorption), needs to be taken into consideration, if you are currently taking any type of thyroid medication, observe the 4 to 6 hour rule.(6)
Food
Similar to supplements, foods rich in iron, fiber, or calcium such as calcium fortified orange juice or yogurt should be enjoyed at least 2 hours before or after taking your thyroid.
Many times we seek different doctors for different reasons. While your endocrinologist could be prescribing your thyroid medication, the general family doctor you seek when sick with bacterial, viral, or maybe stomach issues is completely unaware of any other prescriptions. And we often times forget to mention the over the counter drugs we take, not giving the doctor the whole picture. It is always best to try and keep a list of medication, including supplements, handy to share with each doctor that you see.
Observations of these time guidelines can make a huge difference in keeping your thyroid gland and medication performing at its best.
About Dr. Kent Holtorf
Kent Holtorf, M.D. is the medical director of the Holtorf Medical Group with locations in Los Angeles, Foster City, Atlanta, and Philadelphia. He is also founder and director of the non-profit National Academy of Hypothyroidism (NAH), which is dedicated to dissemination of new information to doctors and patients on the diagnosis and treatment of hypothyroidism.
Dr. Holtorf has personally trained numerous physicians across the country in the use of bioidentical hormones, hypothyroidism, complex endocrine dysfunction, and innovative treatments of chronic fatigue syndrome, weight loss, fibromyalgia, and chronic infectious diseases, including Lyme disease.
source:Are you taking your thyroid medication properly…are you sure?
Sponsored Links