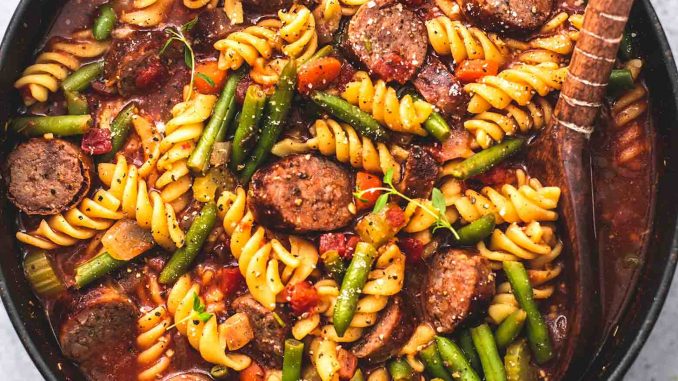 This hearty sausage and vegetable soup is loaded with juicy grilled Italian sausage, tender pasta noodles, vegetables and bold savory flavors! This comforting soup will keep you warm all season long.
This is a sponsored conversation written by me on behalf of Johnsonville. The opinions and text are all mine.
We have been having soup almost every single night this week. And now that I mention it, most days I've had soup leftovers for lunch so probably 80 percent of my food intake is in the soup category. I'm okay with that! I never get sick of soup and right now it's 35 degrees outside and it's official sweater and soup weather so I'm going all-out.
This week I whipped up this Sausage and Vegetable Soup and now I'm craving it day-in and day-out. Even my husband was wolfing down this soup and he's techinically not a brothy soup lover. He likes it creamy. But in the case of this soup, he's a big, big fan.
Sponsored Links

This soup features hearty vegetables and bold Italian sausage. I recently got a Johnsonville Sizzling Sausage Grill and I'm so impressed with how perfectly it cooks sausages every single time, in just fifteen minutes. With Christmas coming up, the grill makes a fantastic gift for home cooks and sausage lovers.
I've partnered up with Johnsonville to share a great discount on shipping and handling when you order a Sizzling Sausage Grill through their website SizzlingSausageGrill.com now through December 11th – just use code "sizzle"
HOW TO MAKE DELICIOUS SAUSAGE AND VEGETABLE SOUP IN JUST 30 MINUTES:
1) First, boil your pasta for about 7-9 minutes until tender, then drain and set aside.
2) I the same pot you used to boil the pasta (saving dishes!) combine beef broth (or vegetable broth if you prefer), vegetables, tomato sauce, seasonings, and bring the mixture to a boil. Cook for about 10-12 minutes just until veggies are tender. Once you can easily pierce the carrots with a fork, it's done.
3) Add your noodles and cooked and sliced sausage and give it a good stir. Now you should give it a taste and add a little salt and pepper if needed. If not, go straight to serving and top it with fresh thyme and parmesan cheese – totally optional of course but highly recommended!
WHAT KIND OF NOODLES SHOULD I USE?
Any short noodle will work well in this recipe. I like to use rotini noodles or another spiral noodle like cellentani. Egg noodles work great or even macaroni elbows or penne. Go with what you've got in your pantry or your whatever your favorite is!
WHAT KIND OF VEGETABLES CAN I USE IN THIS SOUP?
The carrots and green beans can easily be swapped out for another vegetable like corn, peas, cauliflower, or bell peppers. The onions and celery add a lot of flavor to the soup so I recommend keeping them no matter what other vegetables you decide to throw in.
This light and hearty soup is the perfect dinner to whip up in between holiday meals. It comes together in just 30 minutes and tastes SO good, even picky eaters won't mind the veggies. Carrots, green beans, onions, celery, tomatoes, all paired with tender rotini pasta noodles and savory Italian sausage. This soup is everything I love about Winter soups!
Sausage and Vegetable Soup
This hearty sausage and vegetable soup is loaded with juicy grilled Italian sausage, tender pasta noodles, vegetables and bold, savory flavors!
COURSE MAIN COURSECUISINE AMERICANPREP TIME 10 MINUTESCOOK TIME 20 MINUTESTOTAL TIME 30 MINUTES
Ingredients
6 ounces rotini noodles
5 Johnsonville Italian Sausage Links, grilled until cooked through and then sliced
6 cups beef broth (vegetable broth also okay
1 15-ounce can tomato sauce
1 15-ounce can diced tomatoes
2 celery stalks, chopped
1 small onion, diced
1 cup baby carrots, chopped
1 cup canned or frozen green beans
1 1/2 teaspoons Italian blend seasoning (or equal parts dried basil, dried thyme, and dried oregano)
2 teaspoons salt, or to taste
1/2 teaspoon cracked black pepper, or to taste
1/2 teaspoon red pepper flakes
fresh thyme or parsley and grated parmesan cheese optional
Instructions
Place noodles in a large pot and cover with water. Bring to a boil over high heat and cook for 7-9 minutes until tender. Drain noodles and set aside.
In a large pot combine broth, tomato sauce, diced tomatoes, celery, onions, carrots, green beans, Italian seasoning, salt and pepper, and red pepper flakes and stir to combine. Bring to a boil and cook for 10-12 minutes or until veggies are tender. 
Stir in sausage and noodles. Taste, add salt and pepper if needed, and serve. Garnish with fresh thyme and grated parmesan cheese if desired. 
source:SAUSAGE AND VEGETABLE SOUP
Sponsored Links