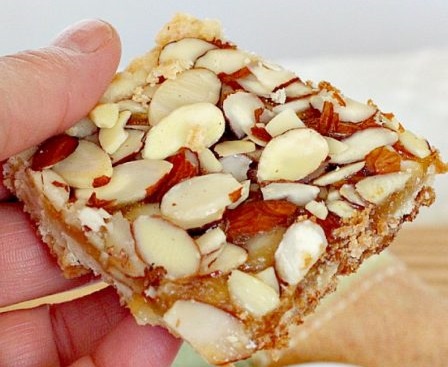 Apricot Almond Bars are delicious cookie bars to die for! There are lots of wonderful apricot preserves and sliced almonds in a thin shortbread-type crust. Every single bite is so scrumptious.  We love these gooey bars and have made them so many times for our Christmas Cookie Extravaganza. This year is no exception. We get a tremendous amount of feedback every time we make these scrumptious bars. Everyone just LOVES them!
I found this amazing recipe in a Taste of Home cookbook in the early 1990s. I've made a few adjustments, but overall it's still pretty close to the original recipe. Back in the 1990s I rarely tried a recipe without a picture, but this was one where I did. Was my family ever glad that we tried them. We could not resist eating one or two or three of these fabulous cookie bars. And when we started shipping them out to family, they loved them too.
As you can tell, Apricot Almond Bars are one of our favorite cookies that we make each year. We really think you will enjoy them too. They are relatively easy to assemble. The most difficult part is cutting these bars.
They do come out of the pan easier if you refrigerate them first, although I left mine to cool for several hours and didn't have any problem. As I stated earlier they are a little gooey in the middle so be prepared to lick your fingers as you transfer these goodies from the dish they're baked in to a plate.
Sponsored Links

When I initially posted this recipe in November 2012, I was still using an iPhone 3 for a camera so my pictures were a little blurry and not as crisp as I would have liked. Also I used way too many Christmas props so the eyes glazed over from so much stuff.
I recently remade this recipe (August 2016) and decided to take a few new pictures as well. These bars are so delightful and gooey. If you enjoy apricots you're bound to love these blondies.
Apricot Almond Bars have always been one of our most requested Christmas Cookie recipes!
Here's a tray of these tasty treats. We recommend freezing these bars before cutting them because they are quite gooey.
There are lots of almonds amid delicious apricot preserves.
I used these ingredients.
Soften butter. You can also melt the butter. I usually make it half way between softened and melted as it's easier to work with the crust ingredients this way. Add powdered sugar and UNBLEACHED all-purpose flour. Bleached flour toughens cookies. 
Stir to combine.
Pat mixture in bottom and up sides of greased 9×13″ baking dish. 
Bake at 350 for 15 minutes. Remove from oven.
While crust is baking prepare  apricot filling: add eggs to a mixing bowl. Add sugar, vanilla, softened butter and apricot preserves.
Whisk all the ingredients together and set aside. Once the crust comes out of the oven you will pour the apricot mixture over top and then cover with sliced almonds.
Add apricot mixture over top of hot, baked crust. Spread carefully.
Sprinkle apricot mixture with almonds.

Bake about 20 minutes at 350. Cool completely before cutting into bars. I usually refrigerate or freeze these bars before cutting as the bars are too gooey to work with otherwise.

Apricot Almond Bars are great gifts during the holiday season. But these ingredients are easy to purchase any time of the year so you don't have to confine yourself to making these tasty treats only during the holidays!

If you enjoy the flavor of apricots, you'll love these bars.
source: Apricot Almond Bars
Sponsored Links