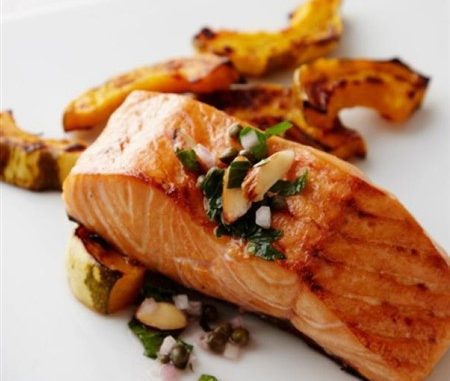 All of my best tips for how to make the most perfectly baked salmon in the oven.  This baked salmon recipe is easy to customize with your favorite seasonings, and takes less than 15 minutes from start to finish.
When I took requests for this series, salmon was by far and away the most popular fish that you all wanted to learn about. And with good reason — it's a fish that's delicious, affordable, easy to find, packed with protein and omega-3s and other healthy nutrients, and it pairs beautifully with a variety of different seasonings and sauces.
It's also incredibly easy to make baked salmon in the oven, which is my favorite way to prepare it.  So since I've already shared two recipes here on the blog for how to make baked salmon wrapped in foil (for honey mustard and garlic lovers), I thought that today we could go back to the basics and talk about how to make classic baked salmon filets on their own.  With a few simple tips, your salmon can be perfectly crispy on the outside, moist and tender and flaky on the inside.  Then the decision will be up to you whether to serve it plain or add on your favorite sauces or seasonings.  Trust me, it's so simple.
So let's talk about how to bake salmon!
Sponsored Links

BAKED SALMON INGREDIENTS & COOKING TOOLS:
First off, let's talk grocery shopping. To make this baked salmon recipe, you will need:
Salmon: When it comes to purchasing salmon, I recommend looking for filets that are:

Good-quality: It's important to me that any salmon I buy is wild-caught and sustainably harvested. I recommend looking for Pacific or Alaskan Salmon; there are many varieties of salmon to choose from. In general, look for salmon whose skin is bright silvery, and whose flesh is shiny and moist and brightly-colored. Also avoid salmon that smells too fishy; it should smell more like the saltwater of the ocean.
Skin-on: Even if you're not a fan of salmon skin, I highly recommend purchasing your filets skin-on — if nothing else because it will help prevent the salmon from drying out while cooking. You can always eat around the skin.

Oil: Whatever your preferred high-heat cooking oil may be. I like to use avocado oil for this recipe.
Seasonings: For the most classic salmon recipe, I typically like to season my fish a simple garlic powder, salt (or seasoned salt) and black pepper seasoning blend with salmon. Then serve it up with a sprinkle of fresh herbs, and a generous squeeze of lemon juice.
You will also need (affiliate links included):
An instant-read thermometer: You guys know me and cooking thermometers. If you really want to ensure 100% accuracy with the doneness of your salmon, I highly, highly recommend investing in a cooking thermometer. It's super-easy to use, and will help ensure that your salmon is not over- or under-cooked. I recommend either this:
HOW TO BAKE SALMON:
Alright, let's talk about how to cook salmon. To bake salmon in the oven, simply:
Bring the salmon to room temperature. Let your salmon filets rest out on the counter for 15-30 minutes, until they have (at least mostly) come to room temperature. This will help with even cooking.
Season the salmon. Blot the salmon dry on all sides with paper towels. Then place the salmon skin-side-down on a foil-covered baking sheet (or in an oven-proof, non-stick skillet, such as a cast iron pan). If the ends of the salmon filets are really thin, just fold them under a bit for even cooking. Brush on all sides (except the bottom) with oil. Sprinkle with your desired dry seasonings. (I like a mixture of garlic powder, kosher salt and black pepper.)
Bake. Then bake at 450°F until the internal temperature of the salmon reaches 140°F* (or I like to cook mine until it reaches 135°F*), about 4-6 minutes per half inch of thickness. You can also test for doneness by inserting a fork or knife in the salmon and twisting it a bit; the fish should be opaque and flake easily.
Transfer salmon to a clean plate. Remove pan from the oven and transfer the salmon to a clean serving plate. Then sprinkle each filet with a good squeeze of lemon juice, sprinkle with fresh herbs if you'd like, then…
Serve warm! And enjoy!
Once the salmon has been cooked, it can be stored in a sealed container in the refrigerator for up to 2 days.  Or you can freeze it for up to 3 months.
SALMON FAQ:
Is salmon skin safe to eat? Yep! Although you're welcome to pass on it if you prefer. I just highly recommend cooking the salmon with the skin on. Then you can either serve it with the skin or without the skin. (To serve it without the skin, run your fish spatula just above the skin, and the salmon filet should lift right off of it.)
How to I prevent salmon skin from sticking to the foil? Make sure the salmon skin is completely dry before laying the filet on the foil.
Can I cook my salmon more/less than the recipe says? Definitely. Different people prefer their salmon to be more rare or more well-done. I like to take my salmon out of the oven when it reaches 135°F. But to be safe, the FDA's answer to how long to cook salmon is to be sure that it reaches an internal temperature of 145°F (measured with a cooking thermometer in the thickest part of the filet).
SALMON SEASONINGS, MARINADES AND SAUCES:
When it comes to salmon seasoning, I'm a big fan of the simple garlic powder/salt/pepper mix in the recipe below, plus a good squeeze of fresh lemon juice, which goes well with just about any cuisine.  But if you'd like to mix things up, feel free to add in any of your favorite dry seasonings.  Or marinate your fish for up to 30 minutes beforehand.  Or of course, feel free to also serve your salmon with any favorite finishing sauces as well.
source: BAKED SALMON
Sponsored Links