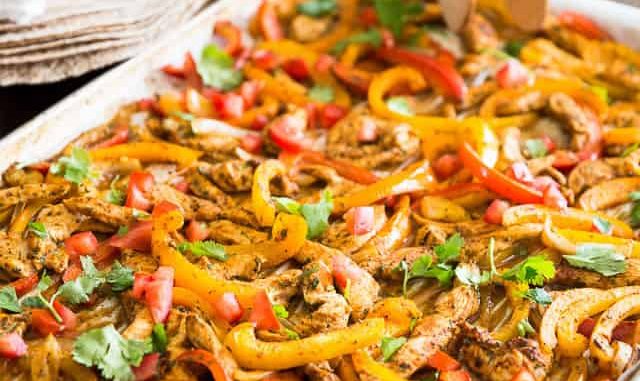 Our Tuesday taco night just got easier and tastier with these Sheet Pan Chicken Fajitas! A simple one pan dinner that includes seasoned chicken and vegetables roasted all on one pan and served in warm flour tortillas with your favorite toppings.
My oldest learned to ride a bike this weekend. I think I was just as excited about it as he was, and I totally get why it's one of those milestones that parents refer to. It made me realize he's really not a toddler anymore!
He's been using a balance bike for the past year and I've known for awhile that he was ready for pedals because he's gotten so good at the balance bike. I'm telllin' ya, the balance bike is the way to go when teaching kids to ride a bike!
We put pedals on his Woom 2 (the BEST bike for little ones) and he was riding completely on his own within minutes. My husband and I were taking videos on our phones of course, and watching the videos back I have to laugh at the shrieks of excitement coming from the adults behind the camera 😉 .
Sponsored Links

We celebrated the occasion by grabbing slurpee's on our way home. And then we enjoyed some Sheet Pan Chicken Fajitas for dinner that I'd prepped earlier that day. Altogether a great (and delicious!) Saturday if I do say so myself.
Nothing makes dinnertime better then when my kids will happily and hungrily sit in their seat and eat their entire dinner without complaint. These chicken fajitas are one of those meals that totally create peace at the dinner table.
You can chop all of the veggies and chicken in advance, and even make the seasoning. Then all you have to do later is toss everything together on a sheet pan and bake it. YES!
One pan meals are the BEST. The preparation couldn't be easier, and clean-up is a breeze. And when dinner tastes as good as these sheet pan chicken fajitas do, you make the recipe a part of your regular dinner rotation. 😉
SOME TIPS FOR THIS RECIPE:
CUT THE CHICKEN AGAINST THE GRAIN.
It's best to slice the chicken against the grain so that it's tender, not chewy. Also be careful not to overcook the chicken or it will be dry. You can test it with a meat thermometer, if you'd like. It is done when it has reached 165 degrees.
IT CAN BE MADE IN ADVANCE!
Make dinner even EASIER by prepping everything ahead of time. I like to slice all of the veggies and cut the chicken, in the morning.
Store them separately, in ziplock bags or a covered container. Make the seasoning up to several days in advance and store it in a jar at room temperature.  I use this sheet pan, when I'm ready to throw everything together. Any large pan will do.
WHAT KIND OF TORTILLAS TO USE WITH FAJITAS:
Fajitas are traditional served with warm flour tortillas, but corn tortillas could also be used.
source:SHEET PAN CHICKEN FAJITAS
Sponsored Links