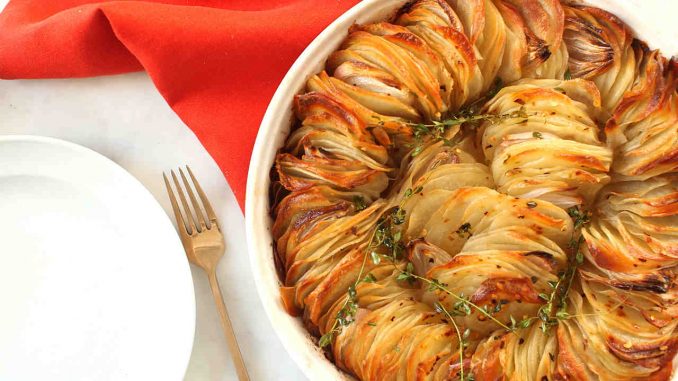 The crispy potato roast with thinly sliced and seasoned potatoes – A beautiful and unique way to serve potatoes – great for holidays, or to make a regular day feel like one.
Just take a minute to stare at the Crispy Potato Goodness in the picture above. I am a huge potato fan and these just look stunning! YEP, they are as good as they look, if not better!
I know that some of you probably will give me the stink eye (which translates to, sure, they're tasty and fulfilling, but you'd never really describe roasted potatoes as "exciting). Never, that is, until now.
If you think you've had roasted potatoes before, you have seen but through a mirror dimly because the thin top of each slice turns gorgeously golden brown and crisp while the rest of the slice stays soft, buttery and warm.
And did I mentioned bacon ?? ( Everything is always better with bacon, right? ) Yes, this recipe calls for a bacon too, a crispy, salty bacon.  So, are you ready to slice some potatoes and top with some sweet, sweet bacon bits ??
The key to this recipe is getting the potato slices as thin as you can, the thinner the potatoes are cut, the crispier they'll become in the oven. I'm not going to tell you this isn't time-consuming. It is, a little bit, even with a mandoline.  If you don't have one, it's a lot of slicing, and these potatoes really need to be wafer-thin…but it was all worth it.
These were a huge dinner success at my house. You can customize the toppings to what each person in your family likes (great way to use up any leftover ham or bacon from the holidays!), and the leftovers make unbelievable home fries the morning after.
Sponsored Links

source:Crispy Potato Roast
Sponsored Links