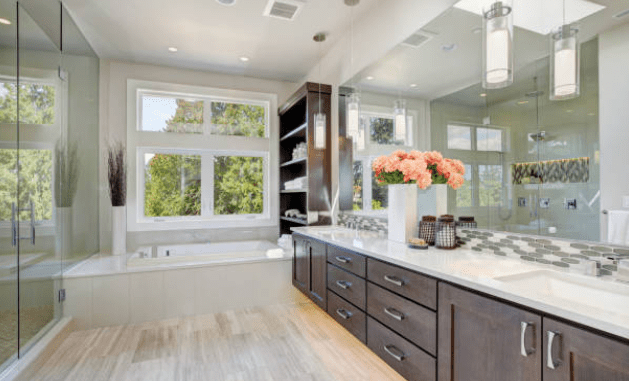 Do as we say, not as we do, right? Or somethin? We just recently finished a full gut job bathroom remodel and I really and truly am not trying to beat a dead horse here, but after nine months, fights, tears and more, I'm trying to help you guys not make the same mistakes we did.
I want to share with you a full postmortem if you will on this bathroom and tell you what we learned along the way, what we will do again, and what we wouldn't touch with a 10 foot pole.
LET'S START WITH OUR BIGGEST REMODEL MISTAKES:
START SMALL
Here's another way to read that: DO NOT HAVE YOUR VERY FIRST GUT JOB OF A PROJECT BE ON A 6 WEEK TIMELINE AND SIMULTANEOUSLY HAVE A FULL TIME JOB. Especially if you can't afford to take any time off work. My husband worked tirelessly all day at his job and then would come home and work on this at night.
Of course demo took like a day and a half, so we felt good about it, but let's just say putting it all back together did not take a day and a half. Or a week and half. Or a month and a half. You know where I'm going with this. Let's move on.
Sponsored Links

ACTUALLY CREATE A BUDGET (EVEN IF YOU DON'T STICK TO IT 100%)
It's always good going in to a project knowing how much you are willing to spend. Granted, this may change along the way and you cut money in some ways so you can splurge in others, but for us we just had a "ballpark" and while we were pretty close to, I really wish we would have done an actual itemized budget since this was a pretty huge undertaking.
AS ALWAYS, KNOW YOUR LIMITS.
We knew from the get go there were going to be things we didn't want to touch because we wanted them to be up to code and didn't want to accidentally set anything on fire and/or flood anything. So, we had an electrician come in and help wire us up for can lights, move a couple light switches, and convert a 2 flippity flip (<–technical term) to a 3 flippity flip with a dimmer switch.
We also had a plumber come in and help us plumb to turn a one vanity into a double and help us set our tub in a bed of mortar.
We also knew ahead of time that we would need help with crown molding since we had already hired a guy to do the rest of our entire house. So, we had him on standby waiting to come help us with the crown here … So glad he was able to stand by for 9 months LURLZ.
LEARNING FROM OUR REMODEL MISTAKES: WHAT WE WILL NEVER DO OURSELVES AGAIN
DRYWALL/BACKERBOARD
Okay, we MIGHT do this, but I will say I had to mud and tape all this drywall and I personally will NEVER EVER EVER do that again. I'm as firm on that as I am about my feelings to never ever scrape popcorn ceilings again. Putting the drywall and backerboard up weren't actually that miserable, but there is just very little room for error and that took us days to do too. Plus, GUYS IT IS SO HEAVY OMG.
TILE
Now, it should be noted I never did a single thing with this tile minus helping grout a little bit at the end which was also a disaster. Tiling was a beast you guys. I've watched some of you that I follow on Instagram just like doing it yourselves and you're all cute and whatnot and then for us it was a miserable mess. Because my husband hated it so bad, we literally sat with our tile looking like this for about 5 months:
It was awful. And because of the concrete crap or whatever that's behind the tile, it also sat in our tub and now I don't think our precious $5 tub will ever be as clean as when we got it. I'm so sad.
Now, granted, I'm pretty happy with how it turned out both on the floor and the wall, but the truth is, if you're not a professional and you aren't taking a couple days off to do this, just hire someone. I promise you it's worth it.
NO MISTAKES HERE: WHAT WE WILL MOST LIKELY DO AGAIN
A FULL GUT JOB
Eek. It almost pains me to say that. Let me tell you when I first saw those studs in this bathroom, I went full blown panic mode. Mostly because there was NO turning back. But to see from complete studs to our finished project just makes me realize that you can love no matter what home you're in and can always make it your own.
SHOP ONLINE
Yes, we truly love being able to hop in the car and drive to go pick something up or to see it in person, but it's also like a mini-Christmas when you see that UPS driver deliver something to your doorstep that you can have the joy of unboxing.
Our floor tile? Online here. Our light fixture? Online here. Sinks and faucets? Online here and here. It's sometimes hard to trust things online and there were certain things I knew I wanted to be able to see in person, but we also trusted reviews as well. There were a couple things we had to send back, mainly because it ended up being larger than we thought or just couldn't fit in our design, but overall, shopping online made things super easy.
USE IKEA CABINETS
We will absolutely be using Ikea cabinets again! I'm not sure if that will be for another vanity or when we fully renovate our kitchen, but we are SO happy with these cabinets! We used 3 base cabinets that we screwed together and they're a dream. So much storage and the soft close is great for little ones who may accidentally slam things.
THE ONE ROOM CHALLENGE!
That's right. You heard me. Even with our horrible experience, we can't blame the One Room Challenge for our mistakes. It's a great concept and it actually made such a huge difference in our house, even if we didn't get it done on the six week timeline.
I'm really excited about our next venture into this spring round of the One Room Challenge that starts in just a couple weeks! We're already learning from our mistakes and making a budget and putting together ideas as we speak!
source: MISTAKES TO AVOID WHEN TAKING ON A BATHROOM REMODEL
Sponsored Links