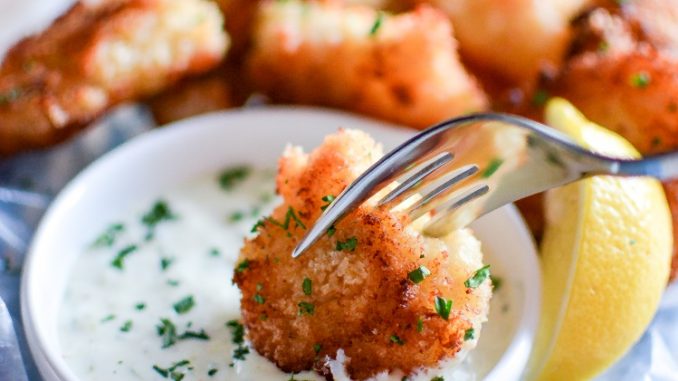 I have a confession to make. Don't judge me. I love fish sticks…like love love love love them. I always have, and I'm talking about the fish sticks that you find in that dreaded frozen aisle of the grocery store. The other night, I was explaining to Zach how much I loved them and how I haven't had them in years (probably decades really) because I try to avoid the frozen aisle (unless ice cream is involved) at all costs. It was at this moment that I decided I needed to come up with a homemade recipe that is baked, not-fried and just as delicious as the childhood favorite. With a little bit of testing, I think I finally have it. These crispy oven-fried fish bites with homemade tartar sauce is such a simple recipe. It's perfect for a quick weeknight meal, and the flavor is just incredible.

I tend to go a little crazy with oven-fried recipes. This taco recipe and this sandwich recipe are just two examples. Oh, and don't even get me started on these pickles. I think subconsciously I feel like it's better for me, even though it's only a LITTLE bit lighter, but it doesn't make my house smell like fried food. That my friends, is a win in my book.
I like to use cod for this recipe. Mainly, I gravitate towards halibut. It's definitely one of my favorites, but let's be honest, halibut is super duber expensive…especially when you live in Colorado. I get excited when I can find it ON SALE for less than $30 a pound. As a result, I don't cook with halibut often, unless there's a special circumstance or I need to fill some craving from the pacific ocean. So, it's usually cod. This isn't a terrible thing. Cod is a great fish to fry, and it is even better when it's oven-fried.
Recipe for these crispy oven-fried fish bites with homemade tartar sauce is below. Pair it with a pale ale and throw in a side of chips/fries. Fish and chips never tasted so delicious. Have a great day everyone! xo
Sponsored Links

source:Crispy Oven-Fried Fish Bites with Homemade Tartar Sauce
Sponsored Links