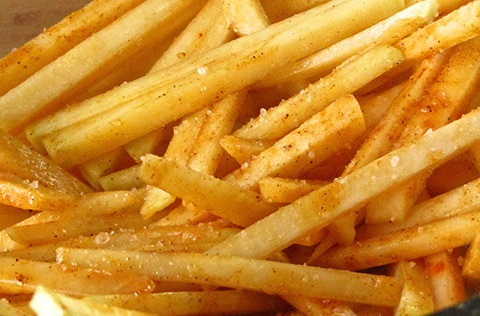 Celeriac Fries are a great substitute for fried potatoes and are very easy to cook in the kitchen. In reality, the celery has a small number of fans, both in appearance and in taste, but you will be surprised by its taste in combination with potatoes.
Many people are skeptics about the taste of potatoes with celery, but that's so until you try them once.
It remains for you to try and be assured!
First, you need this ingredients
350 g (12 oz) Celeriac root
½ tsp garlic powder
1 tsp smoked paprika
2-3 TBSP olive oil
Sea salt to taste
Than you need to know this instructions:
-Preheat oven to 200 C (400 F)
-Peel celeriac root and cut into chunky chips
-Place into dish and add spices, salt, but first moisten the pan with olive oil
-Mix everything thoroughly
-Place on the baking tray and cook for about 30 minutes
The time required to prepare this meal is around 10 minutes. For cooking you will need another 30 minutes.
It should be noted that the total weight of carbs in the upper recipe is 9 grams.
source: Low Carb Celeriac Fries With Olive Oil
Sponsored Links

Sponsored Links