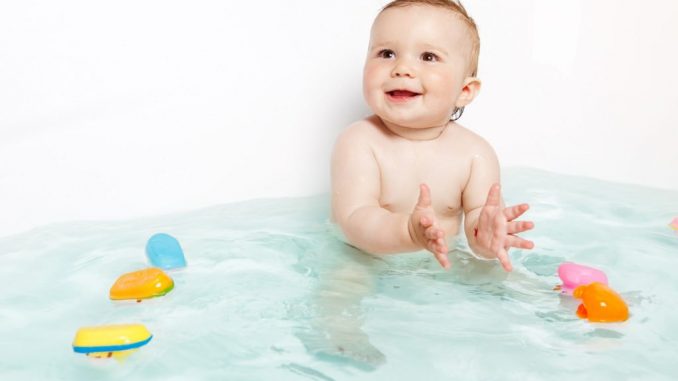 If your kids are in school, heading back to school, fighting off a cold, or just acting off… then the natural fix of a detox bath can help kick colds fast and keep immune systems healthy. Remove toxin build ups with a detox bath built for kids.
Detox Bath: The Natural Way to Boost Your Immune System & Rid the Body of Toxins
Is there anything worse than a child (or a house full of them) who is under the weather? My kids handle colds as well as their Dad (which when you read between the lines, means they don't handle it well at all.) Children who are coming down with a cold, or feel under the weather are likely cranky, irritable, aren't sleeping well and basically, a hot mess.
In 2017 I ditched typical store-bought cleaning, haircare and skin products and switched entirely to plant-based and non-toxic products. This is also the time when I discovered the natural healing properties of a detox bath to help my kids detoxify their bodies from toxins, relax, sleep better and boost their immune systems.
Magnesium, which is the key property of a detox bath, keeps your immune system healthy, clears toxins from your system which accumulate from your environment and food, improves circulation and helps you relax.
Sponsored Links

You can give your children a detox bath once a week, but it's not just for kids because I've found when I do a detox bath, it also helps me keep my immune system strong, I sleep better and feel more energy during the day.
A detox bath is one of my most favorite ways to kick a cold quickly and keep them healthy, and in my opinion, I find that it really helps.
What Toxins Are We Talking About Detoxing From
Everyday people are exposed to hundreds of toxics from household products, pollution and processed foods. These toxics create "body burden" which impairs the body's ability to function properly, as it naturally would if it were free of toxins.
Toxins are chemicals or poisons which have a harmful effect on the body's organs to function properly. Everyone, everyday is exposed to toxins in one way or another.
They're in food, water, skincare, haircare, medicines, pollutants in the air, what you eat on and cook with, products you clean your home with and more.
All day long, your body works hard to filter these toxins through your blood, skin, lungs, kidneys and liver. From the liver, the toxins collect and then exit the body (errr… through the bathroom), but when they've overloaded with toxins, they begin to slow down and not function optimally.
What Does Toxin Overload Look Like in Children & Adults?
Your body is a machine but like most machines, they need upkeep and cleanings. Your body stores toxins in the liver, brain cells, nerves, fat cells and blood stream. The way you can identify an overload of toxins in the body can show up in several ways:
Flu-like symptoms
Coming down with a cold more often than usual
Headache
Irritability
Trouble sleeping (insomnia could be a sign of liver overload)
Muscle and join pain
Runny or stuffy nose
Allergic Reactions (hives)
Sneezing and coughing
When I learned all the signs of toxin overload, I began to look at symptoms in my children from a new perspective. I began to use a detox bath to help comfort and relieve them of these side effects of toxin overload.
What Does a Detox Bath Help With?
Weekly detox baths not only help unburden the body from harmful chemicals and heavy metals, but they also provide rich minerals like magnesium which helps:
Improve immune function
Promote better sleep habits
Relax the body, including the nervous system and muscles
Reduce inflammation
Regulate enzyme activity
Improve the body's natural absorption of nutrients
Epsom Salts are great to help with natural healing of bruises and bumps
The Detox Bath
Detox Baths are relaxing and soothing and help draw the toxins out from the skin to ease the toxin burden on your body.
FOR CHILDREN: Use 1/2 cup of Epsom Salts, and combined with 2 tablespoons baking soda (to clean unfiltered water and help aid in the elimination of toxins.) You can also add 2 tablespoons Vitamin C Powder in place of the baking soda.
FOR ADULTS & CHILDREN OVER 60LBs: Use 1 cup of Epsom Salts, and combine with 3-4 tablespoons of baking soda. You can also add 2 tablespoons Vitamin C Powder in place of the baking soda.
Let the bath tub fill and add your ingredients, stirring until the salts dissolve.
Enjoy a 15-20 minute bath however, do not use bath products or soaps while in a detox bath because you're reintroducing those toxins.
Afterwards, be sure to drink lots of water afterwards to continue to help flush toxins out.
You can use a detox bath once a week for children, or every few days if they're fighting off a cold or flu-like symptoms.
A Few Notes…
Add baking soda to your water if your water isn't filtered. Bath water contains chlorine and other chemicals, and adding baking soda alkalizes the water and neutralizes chlorine.
When I mention essential oils, I am referring to quality, therapeutic-grade oils. I'm not talking about using diluted and watered down oils which is why I recommend DoTerra and Young Living grade oils.
It's important to dilute essential oils according to instructions and not use any "hot" essential oils in a warm bath.
source: Detox Baths for Kids to Help Kick Colds Fast & Boost Immunity
Sponsored Links