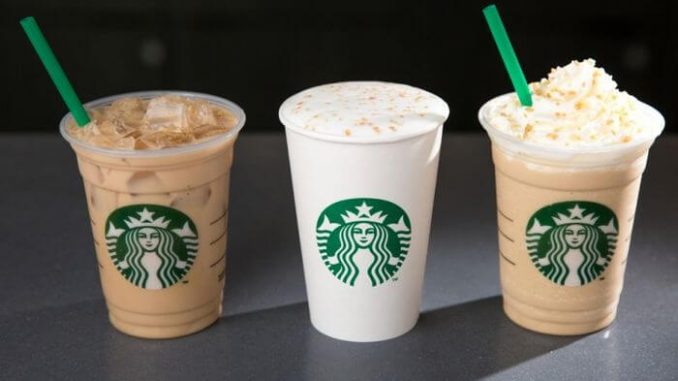 Stop drinking carbs at Starbucks with these 7 keto Starbucks drinks to stay in ketosis and avoid sabotaging your weight loss efforts.
If you're anything like me, chances are you can't avoid going to Starbucks from time to time (Read: every single day).
However, when you follow a ketogenic diet, it's important not to eat too many carbs, and Starbucks drinks are usually filled with sugar, and only drinking one simple latte or mocha can easily make you exceed your carb intake.
Because I know the struggle is real, I've put together a list of 7 keto Starbucks drinks so that you can stay in ketosis and keep losing weight, while still going to your favorite Starbucks.
Sponsored Links

The idea for this article came after I saw another blog post on Pinterest, that was clearly written by someone who doesn't understand keto, and leads people astray. Hence, the need to put things right and truly help people order keto at Starbucks to stay in ketosis.
1. Low Carb Flat White
Let's start this list of keto drinks at Starbucks with the Flat White.
The Flat White is generally made of steamed milk and espresso, which gives it its creamy texture and strong taste.
To turn it into a keto-friendly Starbucks coffee, you need to ask to replace the steamed milk with half heavy whipping cream and half water steamed.
The good news is this short keto flat white only contains 1g of net carbs, and 5g (!) of fats, which could also make it a fat bomb (almost).
2. Keto Pink Drink
The Keto-friendly Pink Drink is actually a "secret" Starbucks drink which has taken the social media by storm in 2018, thanks to its delicious and summery taste.
In case you don't know, the regular Pink Drink is made with Strawberry Açai, coconut milk, and topped with a scoop of freeze-dried strawberries.
Although it sounds (and is) delicious, the regular Starbucks Pink Drink is so high in carbs you can't have it on the keto diet. Not even in your wildest dreams.
Therefore, here's how to order a Keto Pink Drink, which won't kick you out of ketosis:
Order a Passion Tango Iced Tea
Replace milk with heavy cream
3 pumps of sugar-free vanilla syrup
A little Splenda (optional)
A scoop of Freeze-dried Strawberries (optional, 2g net carbs)
The Keto Pink Drink is loaded with fats and super-low carb, so if I were you I'd definitely give it a shot!
I couldn't put my hand on the nutritional info (it's still fairly new and secret), but I'd say it's about 6g fats and 1g carbs (3g with strawberries) for a short, using the USDA data.
I'm not sure I like it as much as other Keto-friendly Starbucks drinks, but hey, its "regular" version, the Pink Drink, contains 27g (!!!) of carbs, which is a definite no-no when you follow a keto diet.
So, even if it doesn't taste as good, be grateful for easily staying in ketosis. Your fat (or the lack thereof) will appreciate it.
3. Low Carb Caramel Macchiato
Caramel Macchiato usually contains milk, vanilla syrup, brewed espresso and caramel sauce. Now if you've got the keto eye, this is some sugar-filled drink we have there.
I would also advise against ordering a Skinny Caramel Macchiato, for the simple reason that it's also low in fats (which you don't want on Keto).
But you can make some easy replacements to make it keto-approved:
Order a Short Americano
3/4 water and 1/4 heavy whipping cream
2 pumps of sugar-free vanilla syrup
extra-light caramel drizzle
This Keto Caramel Macchiato contains a bit more carbs than usual (2-3g) because of the caramel drizzle, but hey… It's still better than 28g, right?!
4. Low Carb Mocha
Regular Mochas are packed full of carbs, containing around 20g, and are made with milk, espresso, mocha sauce and whipped cream.
For a keto Mocha, you need to do as follows:
Order a Mocha
Sugar-free mocha syrup
Replace the milk with half-heavy whipping cream and half water
Enjoy
This version is much healthier, containing only 1g net carbs, and again, packed with fats (5g).
It's definitely one of the best low-carb Starbucks coffee drinks ever.
5. Keto Latte
The Caffè Latte usually contains espresso, steamed milk, and a thin layer of foam. It doesn't contain as many carbs as the other Starbucks drinks in this article, but still, it's way too much for the ketogenic diet.
Here's how to order a Keto Latte:
Order an Americano
3/4 water, 1/4 heavy cream
With foam on top
Please
Again, 1g net carbs, 5.5 g fats.
6. Low Carb Americano
With so many recipes starting by "Order an Americano", you were probably wondering "Heck, if the Americano serves as a base for every keto drink, why don't I simply order an Americano, since I love it?".
And the answer to your question is: "Yes, Order an Americano!".
If you like the Americano, you don't need to change anything. It's a naturally low carb Starbucks coffee, so go ahead and simply order one.
You're welcome.
7. Keto Low Carb Iced Coffee
The goods news is that to have a low-carb iced coffee at Starbucks, you only need to order any iced coffee and ask the barista to leave it unsweetened. It doesn't get much easier than that.
It would go like this: "A Narina 70 Cold Brew on Ice, unsweetened, please."
Simple, but effective.
Bonus: Keto (Iced) Chai Tea Latte
A typical Chai Tea Latte is made from milk, water and chai tea concentrate. While this doesn't sound particularly high in carbs, the tea concentrate is unfortunately loaded with sugars and honey, while the milk also contains some nasty carbs.
To get a keto Chai Tea Latte, here's what to do:
Order a Short Chai Tea Latte
With 2 Chai brewed tea bags − NOT the concentrate
2 Shots of Heavy Whipping Cream
2 Pumps of Sugar-Free Cinnamon Dolce
This way it's only 1 net carb and 5.5g of fat :).
If you want a cold drink instead, simply order a "Short Iced Chai Tea Latte", all the other steps are the same.
Winter Bonus: Keto Peppermint Mocha
To order this winter favorite without the bad carbs, here's what to do:
Order a Grande Americano
1 Pump of Peppermint syrup
4 Pumps of Sugar-Free Mocha sauce
2 Shots of Heavy Whipping Cream
Please note this Keto Peppermint Mocha doesn't taste like the original because Starbucks discontinued their sugar-free peppermint syrup, and there's absolutely no way to put the usual 2 pumps of Peppermint syrup if you're on keto.
The good news: it's only 5g net carbs, which is not too bad for a Grande.
This is the closest you're ever going to get without consuming 60 (!!!) carbs at once.
And, between us, it's still one of the best low-carb Starbucks drinks out there, so enjoy it while the Christmas season lasts!
source: 7 Keto Starbucks Drinks to Stay in Ketosis
Sponsored Links