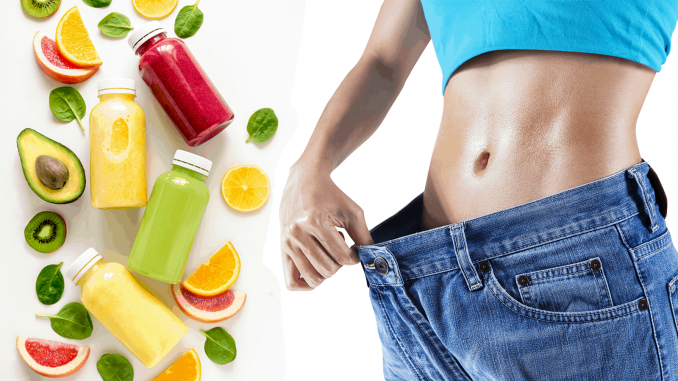 When we heard about weight loss drinks green tea popout our mind. But detox smoothies are also good weight loss dinks.
Drinking detox smoothie is a healthy way to cleanse your body. It is easy to make detox smoothies and all you have to do is to find the ingredients that you like. This healthy drink is a powerful weight loss tool recommended for everyday use.
What is a Detox Smoothie?
If you want to lose weight in a natural way, you should consider drinking detox smoothies. It is a delicious and easy way to eliminate toxins from your body and to lose weight fast. Usually, the main ingredients of detox or green smoothies are fruits and vegetables.
This beverage contains vitamins, fiber, antioxidants, and other helpful nutrients ideal to detoxify your body. Likewise, the water added to the smoothie can boost your metabolism and at the same time keep your body hydrated
Sponsored Links

If you're not a green leafy vegetable lover, you can start using spinach when making smoothies because it doesn't have flavor but works well in your metabolism.  In making detox smoothies you can use either fresh or frozen ingredients and it should be organic to ensure that the ingredients are pesticide-free.
Detox Smoothie Recipes for Weight Loss – Top 10
#1. Kale and Apple Green Detox Smoothie
Ingredients:
2/3 cup unsweetened almond milk
1 ½ cups chopped kale
1 stalk of celery (chopped)
¾ cup of rice
½ green or red apple (cored and chopped)
1 tbsp. Ground flax seed
Kale is considered a "superfood" that is packed with minerals, vitamins, and other nutrients. Many people don't know that kale is one of the most nutritious plants that ever exist.
The taste of kale may be strong for some that is why it's important to choose the right combination of ingredients. Use only the leaves of kale to reduce the bitter flavor that is mostly present in the stems. Click here to read full recipe.
#2. Spinach Pineapple Green Smoothie
Ingredients:
1 bunch spinach, roughly chopped
1 cup almond milk
1 whole banana
3/4 cup pineapple chunks
This is a detox smoothie recipe has a bright green color that is full of vitamin C from the orange and pineapple.
Pineapples are a good source of vitamin C, copper, folate, and manganese. It also contains bromelain that provides many health benefits. This plant compound helps fight cancer, boosts immunity, heal wounds fast, and for gut health. Click here to read full recipe.
#3. Berries Smoothie
Ingredients:
1 cup purified water
1/8 cup rolled oats
1 ½ cups berry mix (blackberries, raspberries, blueberries)
½ cup of coconut milk
It's very easy to prepare this detox smoothie. All you have to do is to combine all the ingredients and blend them until you achieve the desired consistency.
Berries are recommended for detoxing because of the antioxidant content and fiber as well. They encourage the toxins to purge out of the body's systems that is also the key to lose weight. Click here to read full recipe.
#4. Creamy Avocado Lime Smoothies
Ingredients:
½ cup cubed frozen pineapple
2 cups packed fresh spinach
1 ripe avocado
1 frozen banana
¾ cup light coconut milk (canned or from a carton)
3 tablespoons fresh lime juice, plus ½ teaspoon zest
2 scoops Aloha Vanilla Protein Powder, more as desired
1 teaspoon maple syrup, or sweetener of your choice
Avocado is one of the healthy foods that is also considered as "superfood". It contains vitamin B. C, and K, as well as potassium, folate and more. Studies revealed that avocados help to promote eye health, relieve joint inflammation, improve cardiovascular health, strengthen the bones, and help lose weight. Click here to read full recipe.
#5. Coconut Green Detox Smoothie
Ingredients:
1/2 cup coconut milk
1/2 cup plain Greek yogurt
1 cup spinach
1 large banana, peeled
1 large green apple, cored, peeled and chopped
2 tablespoons shaved coconut
The ingredients used in this detox recipe really help not only to remove waste products from the body but also to lose weight. The ginger provides detoxifying benefits and the coconut water has antioxidant properties.
Likewise, coconut water contains various nutrients and electrolytes. The cinnamon has anti-inflammatory properties. You can try this detox smoothie recipe and see how it will help you. Click here to read full recipe.
#6. Spicy Greens Detox smoothie
Ingredients:
1 scoop plain or vanilla protein powder
1 large kale leaf (over 1 cup chopped)
2 cups low fat milk or almond milk
3/4 cup frozen pineapple chunks
3/4 cup frozen mango chunks
1 frozen banana
This detox smoothie recipe offers unique twist as you can taste the spicy and savory blend of mixed veggies, cilantro, jalapeno, and fresh greens. The jalapeno that has spicy taste offers many health benefits and detoxifying effects.
The added lime juice also has significant benefits. If you can tolerate the spiciness of jalapeno, you can reduce the measurement or use chili powder as a substitute. Click here to read full recipe.
#7. Pineapple Coconut Detox Smoothie
Ingredients:
1 cup of coconut milk
3/4 cup pineapple chunks, with juice
about 4 cups baby spinach leaves
If you want to enjoy a tasty tropical treat that can also help to lose weight, you should try this smoothie recipe. The ingredients have potent detoxifying and antioxidant effects.
Pineapple has a high content of bromelain that is also known as an effective detox agent. The bromelain content helps to digest and process the foods better inside your stomach. Click here to read full recipe.
#8. Strawberry Mango Spinach Smoothie
Ingredients:
3 cups fresh spinach
1 cup of frozen mango cubes
1 cup fresh hulled strawberries (approx. 6-8)
1/2 cup unsweetened almond milk
The ingredients of this detox smoothie perfectly blend the yummy combination of mango and strawberry. The almond milk boosts the metabolism because the protein content increases the thermic effect of the food that facilitates digestion. Click here to read full recipe.
#9. Red Beet Detox Smoothie
Ingredients:
1 small red beet, trimmed and peeled
1 large apple, cored
1 stalk of celery
1 cup carrot juice
1 cup almond milk
2/3 cup frozen sliced peaches
1-inch piece of ginger, peeled and sliced
This is another great juice detox to start your day. The main ingredient beets are a good source of vitamins and minerals, such as folate, potassium, manganese, iron and vitamin C. Click here to read full recipe.
#10. Orange Banana Ginger Detox Smoothie
Ingredients:
1 banana (frozen)
1 orange (peeled)
2 cups spinach or kale
1 cup coconut water or almond milk
Juice of ½ lime
1 tbsp chia seeds
The combination of ingredients makes a tasty blend that is highly effective as a detox smoothie. The ginger along with the fresh greens, lime, chia seeds and other ingredients provide detoxifying effects.
The lime is also known for its detoxifying effect that's why adding lime juice makes this recipe an effective detox plan. It doesn't only detoxify the body but also helps to lose weight. Click here to read full recipe.
Bottom Line
Adding detox smoothies to your daily diet allows you to enjoy many health benefits. It does not only work as a natural cleanse, but also assist in losing weight naturally. It also keeps you hydrated, regulates the bowel movement, and many more.
With all those best detox smoothie recipes listed above, you will surely find the right one that will suit your taste buds. There's nothing to worry about because all the ingredients are natural and full of nutrients.
source:10 Detox Smoothie Recipes for a Fast Weight Loss Cleanse
Sponsored Links